In Cooperation with Team Semper Fidelis, Globe Asiatique, and IceWorm HobbyShop
Are you ready for this?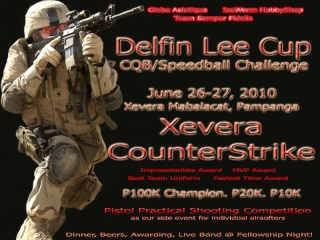 14+1 per Squad. 450fps max Power. 24 Teams Maximum.
Standard Rules Applied. Segmentation Marshalling Implemented.
Screening Process is required. Slot Reservation and Final Confirmation is a Must.
Impressionista Award. Best (team) Uniform Award,
MVP (individual) Award. Fastest Time (team) Award,
and a Fellowship Night of Awardings, Dinner, Beers, Live Band, Team Presentations and Fun!
A Presentation is Required to Represent Each of the Confirmed Teams.
P100,000.00 Champion
plus Championship Shirts limited to 15 Ops and Individual Medals!
P20K 1st Runner-Up and P10K 2nd Runner-Up
Pistol Practical Speed Shooting Competition (Individual)
As our side show. Please bring your stock, semi, or full race gun for this side event.
Regional and Tourney Champions are Highly Encourage to Send Their Intention to iceworm.
We want Competitive and High Quality Teams to Play.
Pampanga Airsoft Teams will be given limited slots. Hurry Up Cabalen!
Is your TEAM the Best of the Best?
PM your team eMail address, team leader name, and contacts to iceworm.
We will let you know or send details and formal invitation as soon as possible.
Slot Reservation is only until April 30, 2010, Friday. Strictly No On-Site Registration.
Swimming Pool & Theme Park are open for your loveones, friends, and/or groupies while you play!
Note: We reserve the right to discuss details only to pre-qualified teams, invited or with reserved slots.
We highly discourage inquiries here of individuals without formal representation of their Teams.
We will also Communicate with Your Team Leadership Directly and Personal.
You can also send PM to iceworm regarding your individual inquiries.
This Tourney Is Unlike No Other. Prepare Your Army.
Marshals by Team Semper Fidelis, Team Luzon National Marshals and IceWorm HobbyShop.
Mabuhay po ang Filipino AirSoft Community!